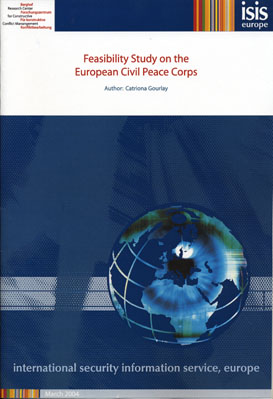 This report has been adapted from a study commissioned by the Directorate General for Research in the European Parliament. The study was a project of the Berghof Center for Constructive Conflict Management and the International Security Information Service, Europe (ISIS Europe)

The Berghof Research Center for Constructive Conflict Management explores constructive procedures and models for dealing with ethnopolitical conflicts in and beyond Europe. The Center studies the contributions made by civil society, development cooperation, humanitarian aid, peace work, and human roghts activities.

ISIS Europe is an indipendent research organisation that facilitates parliamentary and inter - institutional dialogue and provides policy input to strenghten common approches to conflict prevention, crisis management, peace building, arms control and disarmament.
---
Feasibility Study on the European Civil Peace Corps (ECPC)

---
have contributed suggestions and ideas: Catriona Gourlay, Martina Fischer, Alessandro Rossi,
Babs Sivertsen
---
---

---
© Directorate General for Research in the European Parliament January 2004
---