http://aanirfan.blogspot.com
Wednesday, 14 January 2015
EPSTEIN'S BLACK BOOK - MIND CONTROL - OPERATION MOCKINGBIRD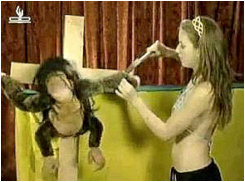 Israeli TV.
Anonymous commented:
Jeffrey Epstein's Black Book is a veritable Who's Who of Mk-Ultra (CIA-Mossad mind control) and OperationMockingbird (CIA-Mossad control of the media worldwide) agents and victims.
The 97-page address book details multiple addresses, phone numbers, e-mails and other contact information for:
Bill Clinton, Donald Trump, crypto-Jew John Kerry, various members of the Kennedy clan, Tony Blair...
The Black Book lists:
Joan Rivers, Special Envoy for Middle East Peace George Mitchell, New York City Mayor Michael Bloomberg, New York Governor Andrew Cuomo, Barbara Walters, Alec Baldwin, Ralph Fiennes, George Hamilton, Dustin Hoffman, Kevin Spacey, Liz Hurley, Lauren Hutton, Naomi Campbell, Christy Turlington, Henry Kissinger, Courtney Love, Mick Jagger, Cornelia Guest, Phil Collins, Itzhak Perlman, Simon LeBon, Charlie Rose, Richard Branson, playwright Candace Bushnell, designers Tom Ford and Vera Wang, soap opera actress Nadia Bjorlin and erotic film star Koo Stark.
Also among the high-powered Palm Beachers listed in the Black Book book are:

Catherine and Fred Adler, Samantha and Serena Boardman, Jimmy and Jane Buffett, Pepe Fanjul, Conrad and Barbara Black, Gerry Goldsmith, Marjorie Gubelman, Dana Hammond, David Koch, Henry Kravis, Frayda and George Lindemann Sr., Bob and Todd Meister, Alfred Taubman, Stanley, Bea and Brett Tollman, and Martin Trust.
Harvard law professor Dershowitz investigated some of Epstein's accusers and provided both the police and the State attorney's office with a dossier containing information about their personal behavior, which had been obtained from their personal MySpace pages.
Also linked to Epstein have been Tony Blair, Rupert Murdoch, Ehud Olmert and Henry Kissinger.
In May 2008, the top people were invited to Israel to celebrate the 60th anniversity of Israel.
The following people got together for the celebration:
Alan Dershowitz
Leslie Wexner, founder of the Limited clothing chain and one of richest men in the United States
Henry A. Kissinger
Tony Blair
Rupert Murdoch
White House domestic policy adviser Jay Lefkowitz
Ron Lauder, the former ambassador who now heads the World Jewish Congress
Václav Havel
Mort Zuckerman
Efraim Halevy, the former director of Mossad.
Dennis Ross
Bernard-Henri Lévy
Goldman Sachs strategist Abby Joseph Cohen.
President Bush
Ehud Olmert
Sheldon Adelson, the Las Vegas casino tycoon and a big financier of Republican and Jewish causes
Shimon Peres
Mikhail Gorbachev